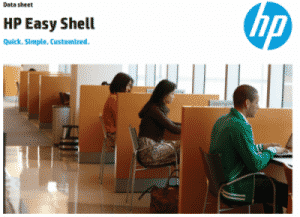 Easy Shell for Thin Client
HP has announced HP Easy Shell, a Windows-based application that allows HP Thin Client users to control, customize, and protect  their Windows Embedded user experience with intuitive and easy to deploy settings. Designed with simplicity in mind for both end users and admins, HP Easy Shell is the go-to solution for businesses looking to customize their user experiences for Cloud, VDI, single and multi-purpose app environments.
HP Easy Shell provides a more focused user experience without device domain connection requirements or complicated group admin policies. From denying and limiting access to apps and browsers, to fine-tuning the home display and control panels – nearly every security need can be 100% tailored.
Key features of HP Easy Shell:
Define user access to websites, single and multi-purpose apps
Customize user access to browsers, task manager, and control panels
Deploy rapidly across small or mass thin client environments
For more information, please see visit this link.
Make your HP Thin Client Windows Embedded user experience easier than ever. Customize the intuitive interface and level of protection to fit your exact needs. Get targeted control at no cost, and make the most of your cloud, VDI, and kiosk environments.
Define user access to websites, single and multi-purpose apps
Customize user access to browsers, task manager, and control panels
Deploy rapidly across small or mass thin client environments
Downloadable local copies of relevant docs
HP LINKS