New Employee Stratodesk Thin Client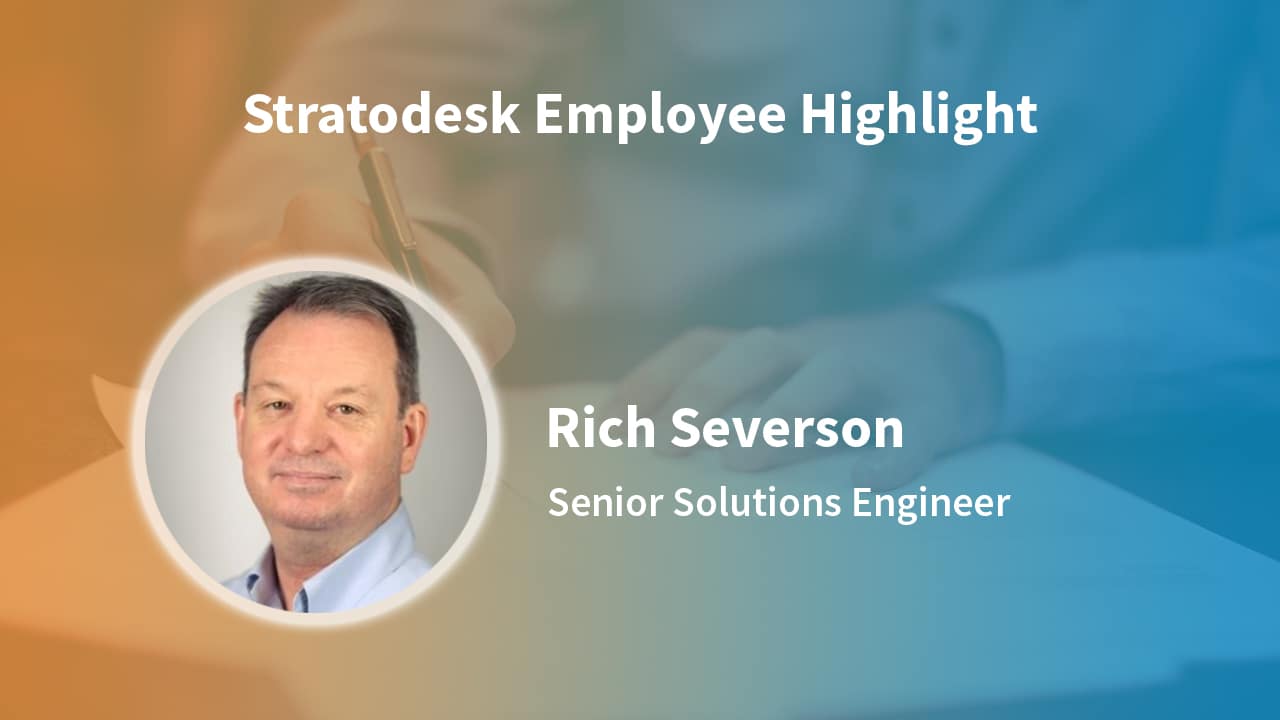 Seasoned Thin Client industry veteran, Rich Severson, joins Stratodesk's team as part of its explosive growth.
Rich Severson is the latest addition to our Sales and Engineering team. As a Senior Solutions Engineer, he will play a key role in driving Stratodesk's continued global growth. This includes expanding core business and our growing workspace IoT offering.
This is not the first time that Rich has played a pivotal part in transforming the future of a company. In his previous role at NComputing, he helped the Thin Client manufacturing leader and Stratodesk partner become the globally recognized brand that it is today.
It is precisely this experience and expertise in growing Solutions Engineering and Channel Enablement programs that will be so vital in aiding the Stratodesk endpoint revolution.
"Stratodesk is on a ramp up of tremendous growth" says Rich Severson. "This is an opportunity to join a great team and help them expand their global footprint.  I look forward to the challenge of helping, partners, channel and OEM integrate Stratodesk solutions for endpoint and enterprise management."
Rich has been a member of the server based and end user computing industry for more than twenty years. Outside of work, he spends most of his time with his family enjoying the benefits of the exciting music scene in Nashville, TN.
A Pivotal Moment in Stratodesk's History
Rich has joined at what is truly an exciting time for Stratodesk. As we continue to see unprecedented and sustained growth year over year, it becomes increasingly integral to the core of our business that we add fantastic talent to not only sustain growth, but to have an impact on continued development as well.
Stratodesk's key business is, and has been for years, PC Repurposing and its flagship product, NoTouch Desktop, the endpoint OS and management solution for VDI, DaaS and IoT endpoints. While both these aspects of the business continue to grow and make new sales records, recent innovations coupled with increasingly complex business needs have driven Stratodesk to do what no other company in our space can.
That is to not only meet the demands of a brave new and technologically advanced work world, but to push it beyond the limits of what was thought possible.  These innovations, like the Raspberry Pi based Thin Client powered by Stratodesk software, and our NoTouch IoT platform, have led us to develop a new core business strategy, unlocking new potential for even greater growth opportunities for us and solutions for our customers and partners.
Workspace IoT and the workspace hub
A center driver for this strategy rests in IoT. Billions of devices are expected to be connected to the Internet of Things, and Stratodesk software is the ideal solution for complex enterprise IoT use cases.
The Citrix Ready workspace hub is a prime example of Stratodesk software's ability for disruption. It brings technological innovation in both VDI and IoT and marries them together into one, powerful solution.
"Imagine a world where everything is connected" says Stratodesk CEO, Emanuel Pirker, "Hospital staff, remote workers and employees simply walk into a room. Lights switch on, computers boot up, and are automatically logged into with all the apps and data workers need. This is already possible, thanks to NoTouch IoTand the Citrix Ready workspace hub."
Indeed, NoTouch software has already begun to build an IoT ecosystem around itself, with notable additions to the family of products being the Citrix Ready workspace hub, ThinPrint's ThinPrint Hub, the NVIDIA Jetson Nano, among others.
These products are not only theoretical solutions to IoT use cases – they have a proven, real world track records for going above and beyond what any other endpoint has been able to achieve in terms of cost, time savings, ease of management, and solving everyday business challenges.
New Partnerships Foster Growth
Not only are free trial downloads and product sales for Stratodesk software up, new partners have recently come on board, driving further innovation. These partners include LG and Liquidware, among others, widening the pool of supported and native NoTouch devices and bringing advanced monitoring analytics to NoTouch Center.
"Bringing Stratodesk onboard as a preferred LG software vendor further enhances the capabilities of our most advanced Thin Clients," says Stephen Hu, head of commercial monitors, LG Business Solutions USA. "And we're proud that Stratodesk was featuring LG's All-In-One Thin Client in their Citrix Synergy booth this year."
"This Integration completes the end-to-end visibility story for organizations that choose NoTouch-based clients and Stratusphere UX," says Kevin Cooke, Product Director for Stratusphere Solutions at Liquidware. "Visibility to workspace consumption is important when looking to manage expectations and deliver the necessary user experience. We're excited to bring these metrics and information to Stratodesk customers."
Extended Reach, Workspace IoT and VMworld 2019
Stratodesk also recently announced our new team member in the UK, showing our commitment to providing the UK with tailored solutions to fit their VDI & DaaS deployments. Additional job opportunities are available within the US – for more on that visit the jobs page on Stratodesk's website.
Lastly, you can see the world's leading endpoint OS and management solution for VDI, DaaS and IoT on display at VMworld 2019 in late August.
More Thin Client Computing News