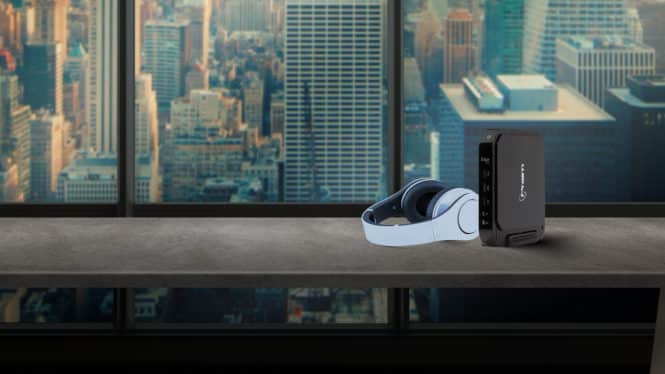 The new device is the first in the Praim range to support up to 3 monitors. It offers high definition content, with resolutions up to 4K UHD and the option Power over Ethernet.
Trento, April 11, 2018 – Praim, a leading provider of systems for the creation and management of thin & zero client software and hardware workstations, is proud to present the new Edge family.
Edge models boast top-of-the-range features and have been created for users working in multi-monitor mode, they are in fact the first Praim models to support up to 3 displays, thanks to the HDMI video output and 2 DisplayPort outputs.
The new Edge devices are particularly suitable for environments where a high level of support for high definition content (such as 3D and video applications) is required, thanks to the resolution up to 4K UHD made possible by the Intel HD Graphics 400 graphics card and the Intel Celeron processor 1.6 GHz Quad Core N3160. The 7 USB ports of Edge (five USB 2.0 and two USB 3.0) allow users to connect all the necessary peripherals, while the new button with touch technology offers greater reliability and durability. With a power consumption of only 4.3 W, the models of the Edge family are an ecological solution for low energy costs. Moreover, thanks to the Power over Ethernet (PoE) option, devices can be used without external power supply, but just from the network Ethernet infrastructure.
"Our customers rely on us because we have demonstrated the ability to offer next-generation solutions, always in step with the ever-changing technologies in today's market. The debut of the new Edge series responds to the growing need among companies of support for activities involving graphic or multimedia intensive applications – declares Stefano Bonmassar, Praim's Chief Sales & Marketing Officer – We are proud to be able to offer a highly technological product specifically created for those who need devices that respond with excellent performance".
The Edge models are available for Praim ThinOX, Windows 10 IoT and Embedded Standard 7 operating system, and in the three zero client ThinOX versions dedicated to Citrix XenApp/XenDesktop, Microsoft RDS and VMware Horizon environments.
The Edge models use Praim's high added value software solutions, such as the ThinMan management console and Praim Agile, which allows you to implement a high standard of control, access and security, simplifying the system administrator's activity.
The new Edge models are already available for purchase through the Praim resale channel.
Visit product page to learn more about the Edge.