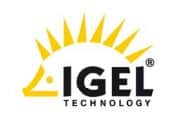 The IGEL Management Interface (IMI) enables integration of the IGEL Universal Management Suite with existing enterprise management systems. In particular, companies with large or distributed client infrastructures benefit from being able to make their workflows even more efficient and further increase IT administration automation.
Reading, UK. October 7, 2015 – To accompany the launch of the new Universal Management Suite 5 (UMS 5), IGEL is introducing IMI, a pioneering solution that enables integrated endpoint management using an existing enterprise management system. Customers are able to administer all IGEL thin and zero clients within their IT infrastructure quickly and easily by means of existing systems, such as Microsoft SCCM or IBM Tivoli.
As well as offering enhanced ease of use, the IGEL Management Interface can also be used to implement new, customised workflows that have not previously been able to be mapped in the UMS console. As an API for REST-compatible programming languages, the IMI paves the way for integrating company-specific scripts or programs for administering IGEL clients. An IMI subscription license is required to use the IGEL Management Interface.
IMI is ideal for enterprise customers and larger companies with many branch offices. The solution is also suitable for system integrators and suppliers of Desktop and Client as a service (DaaS/Claas) solutions to multiple customers. Typical uses for the IGEL Management Interface include real-time information monitoring of equipment or for the compilation of important data and overviews in dashboards. In addition, it is also suitable to generate partially or fully automated workflows and to provide selected or reduced settings for administrators of sub-regions.
"For many years IGEL customers have used our UMS thin client management platform to manage Windows and Linux based thin clients at a deep granular level and yet provide Enterprise level, centralized control for zero touch rollouts, administration and updates," said Simon Richards, IGEL Technology Managing Director for UK & Ireland. "However as the maturity of thin client technology has increased into Enterprise customers, there has been demand from larger organisations to integrate IGELs Universal Management Suite into their existing IT management framework platforms. This means that customers can use the best thin client management platform for thin devices and yet retain the technical skills and financial investment in their existing desktop management. With IGEL's IMI we enable Connected Management."
Licensing under a subscription model
IMI is based on a subscription model. An annual license is required to use the functions of the IGEL Management Interface together with the UMS. The license includes a software update service. Universal Management Suite 5.x is required for the additional functionality. When the annual license expires, IMI can continue to be used with the version last licensed.
Availability
The IGEL Management Interface is now available at a price of £7,450 plus value-added tax. The price includes the solution and an annual license. Annual renewal costs £2,499 plus value-added tax. IMI supports all IGEL Universal Desktop thin clients with a Linux or Windows Embedded operating system, IGEL zero clients and all terminal devices that have been standardized using the IGEL Universal Desktop Converter (UDC). The latest UMS 5 and IMI versions can be downloaded at www.myigel.biz.
About IGEL Technology
A world leader in thin and zero client solutions, IGEL Technology helps organizations improve the agility, efficiency, and security of their virtual desktop and application delivery systems. IGEL produces one of the industry's widest range of hardware thin and zero clients, based on Linux and Microsoft Windows, and leads the market in software based thin clients allowing customers to access a broad spectrum of server-based infrastructures and applications. IGEL also offers powerful and intuitive management software for easy deployment and administration of thin clients throughout any size organization. Partnerships with industry leaders like Citrix, VMware, Red Hat, and Microsoft ensure that IGEL provides the most up-to-date technology and trustworthy security to clients in industries that include Healthcare, Education & Research, Public Sector, Financial, Insurance, Retail, Logistics, and Manufacturing. IGEL has offices in the United Kingdom, Australia, France, the Netherlands, Austria, Belgium, Switzerland, Sweden, the United States, Germany, Hong Kong, Shanghai, Beijing and Singapore and is represented by partners in over 50 countries worldwide. To learn more, visit www.igel.co.uk or follow us on Twitter: twitter.com/IGEL_Technology
 Editorial Contacts:
Paul Smith
Tel: +44 (0)7770 828525
Email: [email protected]