IGEL UDC2 simplifies remote management of business desktops and assists migration to VDI environment
Reading, UK. December 1, 2015 – The latest updates to IGEL's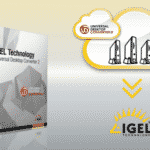 Universal Desktop Converter 2 solution now allows businesses to convert Dell Wyse thin clients from the 5000 and 7000 series into standardized IGEL desktops, with all the remote management benefits of a unified workspace. IGEL's UDC2 standardizes the operating systems used by thin clients, PCs, and notebooks, turning them into IGEL-like devices that can then be more effectively remote managed using IGEL's sector-leading Universal Management Suite (UMS) software, which comes as standard with the UDC2 license. 
The latest version of the UDC2 with IGEL Linux 5.08.100 now runs on all desktop thin clients from the Dell Wyse 5000 and 7000 series, including their predecessor models from the D and Z class. Even the top of the range Dell Wyse 7020 with Windows Embedded Standard 7 (formerly Z90Q7), is supported with full functionality – including sound, dual view, network drivers and WiFi – alongside updates to the devices for the latest tools and drivers for peripheral support.
"The UDC2 is the tool for smart businesses looking for simplified, remote management of their desktop estate or a smooth transition to a VDI environment," said Simon Richards, IGEL MD for UK & Ireland. "The addition of Dell Wyse thin clients to the UDC2's conversion capabilities makes it even easier for businesses to convert their existing desktops to IGEL-like devices and gain all the benefits of simplified, central remote management. In addition, businesses looking to move to a Virtual Desktop Infrastructure can use UDC2 to migrate their existing desktops to IGEL-like devices that are designed for use in virtual and cloud environments from all the leading suppliers. This approach means businesses do not have to immediately spend additional money buying new desktops when they move to a VDI environment."
As well as Dell Wyse, the UDC2 standardizes thin clients from various vendors, such as Acer, Fujitsu, HP, Lenovo or Samsung, as well as x86-based PCs and notebooks.
The conversion process can be carried out locally on the device using a UDC token, USB stick or DVD, as well as over the network by means of the IGEL UDC Deployment Appliance, a combination of PXE Server and web GUI. The guest thin client's original operating system – in this case Linux, ThinOS or Windows Embedded – is irrelevant for conversion with the UDC2. However, the notebook and all-in-one models from Dell Wyse series are not supported or not fully supported.
Price and availability
An unlicensed evaluation version of the IGEL Universal Desktop Converter 2 (UDC2) can be downloaded free of charge from www.myigel.biz. Full conversion of the Dell Wyse client series is possible with IGEL Linux firmware release 5.08.100, available mid-December. Use of the software requires a UDC license, which costs around £49.00 plus vat.
An overview of all thin client devices from other manufacturers that can be converted with the IGEL UDC2 is available at: www.igel.com/udc2-specs. IGEL publishes a complete list of the individual hardware components supported by the IGEL Linux firmware in the "Linux 3rd Party Hardware Database" at: www.igel.com/hwdb
About IGEL Technology
A world leader in thin and zero client solutions, IGEL Technology helps organizations improve the agility, efficiency, and security of their virtual desktop and application delivery systems. IGEL produces one of the industry's widest range of hardware thin and zero clients, based on Linux and Microsoft Windows, and leads the market in software based thin clients allowing customers to access a broad spectrum of server-based infrastructures and applications. IGEL also offers powerful and intuitive management software for easy deployment and administration of thin clients throughout any size organization. Partnerships with industry leaders like Citrix, VMware, Red Hat, and Microsoft ensure that IGEL provides the most up-to-date technology and trustworthy security to clients in industries that include Healthcare, Education & Research, Public Sector, Financial, Insurance, Retail, Logistics, and Manufacturing. IGEL has offices in the United Kingdom, Australia, France, the Netherlands, Austria, Belgium, Switzerland, Sweden, the United States, Germany, Shanghai, Beijing and Singapore and is represented by partners in over 50 countries worldwide. To learn more, visit www.igel.co.uk or follow us on Twitter:twitter.com/IGEL_Technology
Editorial Contact:
Paul Smith
Tel: +44 (0)7770 828525