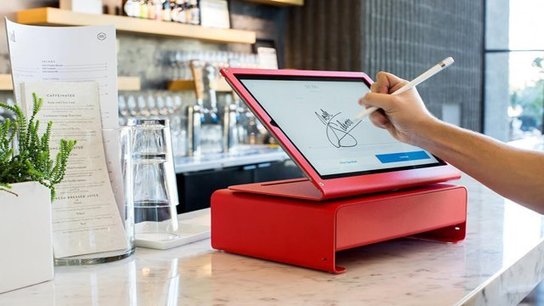 When securing and locking down kiosks or mobile devices, is kiosk software or mobile device management more beneficial? It depends on the context.
Source: www.kioskmarketplace.com
One way MDM is moving into that industry is via the tablet. "When tablets arrived, it was a natural addition to, or replacement of, the smartphone. Quickly, it became clear that tablets could also be used by a much broader segment of staff on tasks within the workplace," said James Kruper, president of KioWare. "For example, sales staff in a retail store can wander around the store with a tablet helping customers."
This pushed tablets into a category Kruper calls a "purposed device," since it is a device that is utilized for a specific purpose, within certain security parameters. Hence, it would make sense that MDM would begin to push into the self-service market, but also kiosk software could also move into the smartphone MDM market, according to Kruper. Purposed devices lay in between self-service and mobile device management.
There are still a few primary differences between the two markets. First of all, most self-service kiosks are made for use by the general public whereas a purposed device is usually meant to be utilized by an employee or owner during hours of operation. Second, many kiosks utilize peripherals in a manner that MDM devices have not adopted yet. Some examples of this include magstripe readers, printers, RFID scanners, cash dispensers and so on. In order to perform this task, the kiosk needs an interface to communicate with the devices.
"MDM vendors will need to add self-service capability to their MDM architecture, and the risk is that it will become a clunky add-on that performs poorly," Kruper said. "MDM can be a viable option in the purposed device market, but in the true kiosk/self-service market, they are the new kids on the block and need to prove they can provide 24×7 security as well as device integration and monitoring."
The key question that emerges from this discussion is whether MDM will ever be able to displace kiosk software. For purposed devices, it could go either way, according to Kruper. If keeping the device locked down is more important, then kiosk software might be more beneficial. On the other hand, if you need to be able to change the settings and update the device often, then MDM might offer more freedom.
"In the kiosk/self-Service market, if it is a public facing kiosk expected to run unattended and for long periods of time, then it is hard to beat kiosk/self-service solutions designed and tested specifically with that intent," Kruper said. "In the spectrum that is corporate device management, consider that BYOD is on one side of the spectrum where there is a high level of freedom but little/no control, MDM is in the middle, and kiosk software would be to the right where there is a high level of restricted behavior allowing for stronger security and tight control of the device."