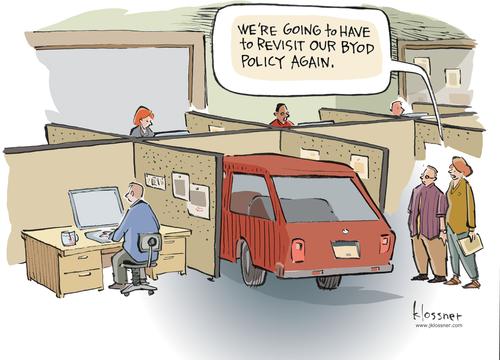 BYOD Policy Template
The use of mobile devices has become commonplace for both our personal and professional lives. Businesses understand that employees often utilize their personal mobile devices in the workplace; however, this raises several safety and privacy concerns that must be addressed.
This brief provides guidelines for appropriate use of personal mobile devices in the workplace to ensure the confidentiality of protected information and improve sta eciency.
Improved Accountability
The organization will use its discretion to determine which employees may use Personal Devices in the workplace. Use of Personal Devices may not be appropriate for all employees. If you are unsure if you are eligible, please contact your direct supervisor.
All data transmitted for work related purposes via Personal Devices is the business' sole property. Accordingly, the organization has an absolute right of access to all of the data sent and may exercise its right whenever it is deemed appropriate by management.
If you work in highly regulated industries, like healthcare, vendors and sub-vendors must be compliant with the latest requirements, like the new HIPAA Omnibus rules.
Personal Devices and third-party applications should remain up-to-date, as older versions may not meet current security standards.
All costs associated with your Personal Device shall be borne by you; provided, however, that the company shall pay for your access to third-party applications used in the workplace.
Use of Personal Devices
Exercise discretion when using Personal Devices at work, as they may interfere with your productivity and be distracting to others. During regular hours, personal devices should only be used to access applicable work information.
When and where you may use Personal Devices within the  company's property is subject to the general policies covering the usage of mobile devices. Use of mobile devices, may be prohibited to safeguard against client security concerns.
In order to ensure the confidentiality of protected client information, you must never utilize traditional text messaging or multimedia messaging services when sending work related data via your Personal Device.
Company policy prohibits screen capture or sharing secure information with users who are not bound by the organization's privacy policy.
Implement two levels of security for all personal devices and enterprise applications used in the workplace. Each should have its own password or use touch ID to ensure that third-party access to your content is limited.
Source:
TigerText provides secure, real-time mobile messaging for the enterprise, empowering organizations to work more securely. TigerText's encrypted messaging platform keeps communications safe, improves workflows, and complies with industry regulations. Developed to address the security needs, BYOD policies, and message restrictions in the enterprise, TigerText is committed to keeping mobile communications secure, private and impermanent.
More than 5,000 facilities and four of the top five largest for-profit health systems in the nation, including Universal Health Services, rely on TigerText to comply with HIPAA and replace unsecured SMS text messaging that leaves protected health and other confidential information at risk.
For more information visit www.linkedin.com/company/tigertext,
www.facebook.com/tigertext, or www.twitter.com/tigertext.