Battle for the Desktop revealed in latest Housing Association Research
 Thin and zero client technology stronger than ever but battling to win new converts
Reading, UK. November 25th, 2014. The battle between PCs and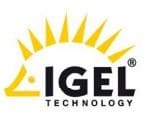 thin clients on the desktops of UK Housing Associations is hotting up, according to the latest research published today. Thin and zero clients are becoming ever more popular in associations where they are already in use but still battling to break into new organisations, where PCs are dominant.
57% of UK Housing Associations are using thin or zero clients (Statistically the same as 2013) according to the research conducted by Market Dynamics and commissioned by IGEL Technology on a sample of 51 organisations. However, 41% of IT managers in Housing Associations currently using thin or zero clients believed that they were likely to increase their thin client usage in the next 24 months and 30% said that they were likely to be converting some PCs to thin clients.
 Primary benefits reported
Strength of feeling and clarity on the benefits of a thin and zero client technology was very apparent with 86% of IT Managers believing ease of use and management was the primary benefit of a thin client infrastructure, followed by energy efficiency (82%) and flexibility (78%). Respondents also cited better cost structure (73%), longer life span (71%) and more secure company data (69%) as major benefits.
 "It is clear that where thin and zero clients are in use within UK Housing Associations, the benefits are very quickly obvious to the organisation and their popularity continues to grow," said Simon Richards, UK & Ireland Managing Director for IGEL Technology. "However, where PCs are still dominant in organisations there remains a hesitancy to adopt and some misconceptions about the technology. This research shows that there is still much to do to inform Housing Associations of the great role thin client technology can play; particularly in organisations with distributed offices and significant customer facing and administrative operations."
 Housing Association desktop and infrastructure landscape
Larger Housing Associations, with more than 100 desktop users, continue to use thin and zero clients much more extensively than smaller Housing Associations. With 73% (Statistically the same as 2013) of staff at larger Housing Associations using thin clients compared to 45% at the smaller Housing Associations with less than 100 users. However, the numbers (45%, up from 25% in 2013) reveal the gap is closing as the smaller associations begin to realise the benefits of the IT infrastructure.
 Citrix remains the primary server-based computing or virtual desktop software provider with its XenApp and XenDesktop solutions in use in 80% of the associations surveyed, Microsoft Terminal Services/Remote Desktop Service or VDI Suite was in 76% and VMware View in 41%
 Of those that use thin or zero clients, the dominant providers are Dell Wyse with devices in 69% of associations, followed by HP in 28% and IGEL Technology in 24% of organisations with thin or zero clients. It appears that Housing Associations are settling on the top three vendors in the market, with market share increases for all three main vendors over the past year.
 Multimedia on the rise
Multimedia use among desktops users is rising much faster than IT managers predicted. On average, 28% of desktop users require multimedia (up from 15% in 2013) and already higher than the 24% that IT managers last year predicted would be using the technology in 2015. And that growth looks set to continue with IT Managers now predicting 47% of users will be using multimedia technology in 24 months time.
 Perceived barriers to thin
The top three concerns about thin or zero client technology perceived by respondents were a technology outage resulting in all staff being unable to work (75%), compatibility with some software and applications (49%), implementation costs (37%) and the difficulty of providing solutions for mobile workers (37%).
 "These concerns are clearly very real for IT Managers that have yet to adopt the technology but I see this very much as an education requirement," commented Simon. "Server-based computing is some of the most reliable and manageable technology available and concerns about compatibility and mobility were genuine concerns historically but no more. For example, laptops can today easily be converted to IGEL-like thin client devices for mobile workers and deliver all the reliability and management benefits of thin client devices, without restricting a user's mobility."
 Executive Summaries of the research findings will be released at the IT in Housing Conference and Exhibition at Manchester on November 27th and 28th November. For a copy of the research Executive Summary visit: www.igel.com/ES_Housing_2014
 About IGEL Technology
A world leader in thin and zero client solutions, IGEL Technology helps organizations improve the agility, efficiency, and security of their virtual desktop and application delivery systems. IGEL produces one of the industry's widest range of hardware thin and zero clients, based on Linux and Microsoft Windows, and leads the market in software based thin clients allowing customers to access a broad spectrum of server-based infrastructures and applications. IGEL also offers powerful and intuitive management software for easy deployment and administration of thin clients throughout any size organization. Partnerships with industry leaders like Citrix, VMware, Red Hat, and Microsoft ensure that IGEL provides the most up-to-date technology and trustworthy security to clients in industries that include Healthcare, Education & Research, Public Sector, Financial, Insurance, Retail, Logistics, and Manufacturing. IGEL has offices in the United Kingdom, Australia, France, the Netherlands, Austria, Belgium, Switzerland, Sweden, the United States, Germany, Hong Kong, Shanghai, Beijing and Singapore and is represented by partners in over 50 countries worldwide. To learn more, visitwww.igel.co.uk or follow us on Twitter: twitter.com/IGEL_Technology
 Editorial Contacts:
IGEL Technology GmbH
Dr. Frank Lampe
Hanna-Kunath-Str. 31
28199 Bremen
Tel.: 0421 / 52094 1300
Fax: 0421 / 52094 1399
E-Mail: [email protected]
Web: www.igel.com
 Amber Group
Paul Smith
Tel: +44 (0)7770 828525
Email: [email protected]
---
Sponsor Thanks to PROVISIO Software