IGEL and DLoG: Technology partnership brings Linux thin client operating system on logistics terminals of the latest generation
The German thin client market leader IGEL Technology and Advantech-DLoG, a specialist in industrial PC and vehicle terminal solutions, raise their cooperation to the next level: At LogiMAT in Stuttgart DLoG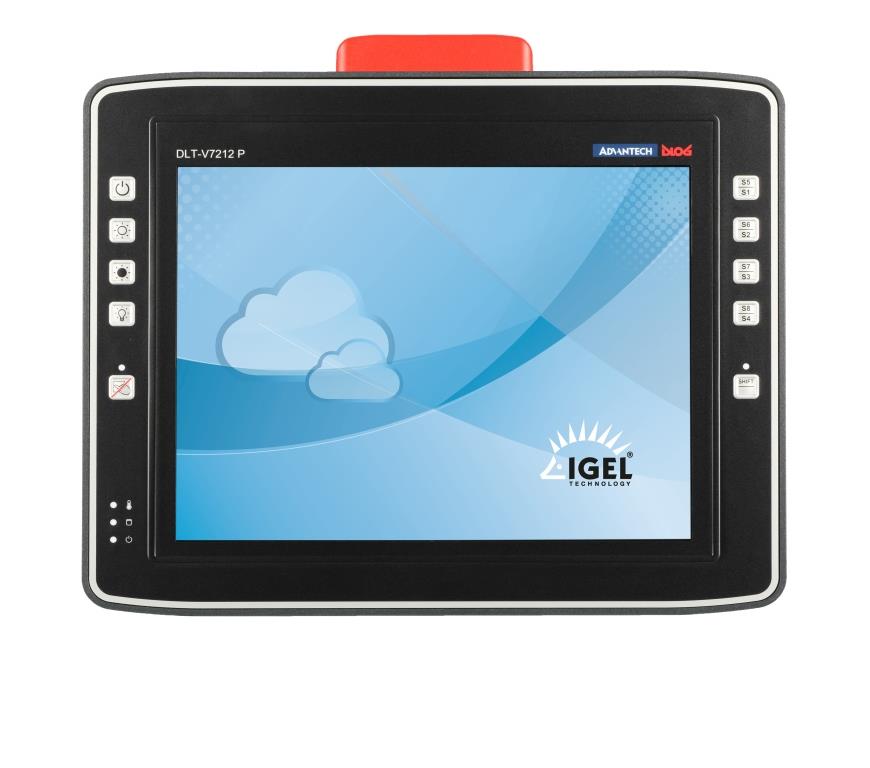 presents its new industrial PC series DLT V72, which will be available with the slim IGEL Linux operating system.
Bremen, Germering February 22, 2016 – Software expertise meets proven hardware expertise: IGEL Technology and Advantech-DLoG, a leading global provider of rugged industrial PC solutions for logistics, large machinery and industrial manufacturing, pooling their expertise in a ongoing technology partnership. The collaboration can take at the international trade fair for distribution, material and information flow "LogiMAT" in inspection interested customers from 8 March: the new vehicle terminal series DLT V72 from Advantech-DLoG. The rugged industrial PCs are suitable for logistics applications of all kinds and will also be available with the IGEL Linux operating system in the future. Thus equipped, they can be remotely managed easily via the included management software IGEL Universal Management Suite (UMS) and fit seamlessly into centralized IT infrastructures. Another highlight of the joint development work: The direct integration of Advantech-DLoG WLAN driver in the Linux firmware. In this way, the switching between different access points in the WLAN (roaming) is ensured as smooth as possible and without any failures. With the DLT V72 series, both companies present a thoughtful combination of hardware and software as a perfectly coordinated overall solution.
The new DLT V72 Series Advantech-DLoG is the successor of the successful model range MTC 6, had founded with the IGEL and DLoG four years ago a technology partnership. The new generation of vehicle terminals withstand extreme weathering stand and is insensitive to dirt, dust, vibrations or strong impacts. In this way, the maintenance and repair requirements are reduced to a minimum and ensures trouble-free, continuous use. In addition to a powerful processor technology and extensive configuration options, the DLT V72 series features various interfaces and wireless technologies. As the form factor are 10 " and 12 'to select, through innovative concepts bracket allows the terminals to use comfortably on almost any vehicle logistics.
Centralized management reduces administration and maintenance costs
The IGEL Linux operating system allows smooth access to centralized IT infrastructures provided by Citrix XenApp / XenDesktop, Microsoft Remote Desktop Services, VMware Horizon and many other software solutions. A local web browser serves as the interface to cloud services. TheAdvantech-DLoG DLT V72 series can thus be used as a universal client, which is also suitable for hybrid environments.
All settings of the vehicle terminals can be made in the future with IGEL Linux via the included management software IGEL UMS remote. The management is group-based based on profiles. Common settings can be easily pre-define and assign a few clicks individual devices or whole device groups. Firmware updates rarely drop and also can be automated or distributed time-controlled via the network, for example in the production period.
Availability
The Industrial PC series DLT V72 from Advantech-DLoG is first presented at LogiMAT that from 8 to 10 March Stuttgart takes place (Hall 7, Stand 7F19). The DLT V72 series is now available to order for customers.