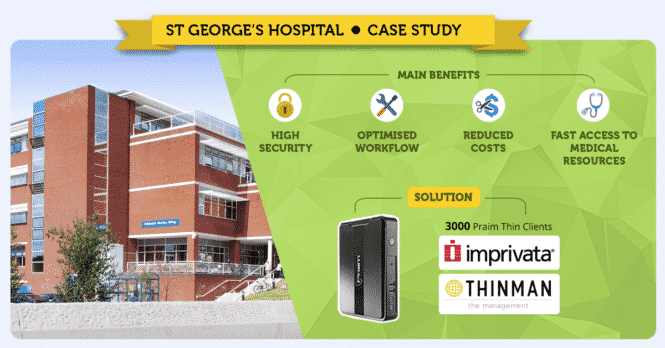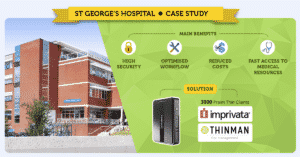 With thousands of staff caring for patients around the clock, St George's Healthcare NHS Trust is the largest healthcare provider in southwest London. With over 7,000 dedicated staff, St George's Healthcare serves an overall population of 1.3 million across southwest London. A large number of services, such as cardiothoracic medicine and surgery, neurosciences and renal transplantation, also cover significant populations from Surrey and Sussex, totalling around 3.5 million people.
To serve such a big population, St George's clinicians are constantly moving throughout all the facilities to treat patients. Timing and quick service are the primary need for the hospital. Doctors require fast, easy and secure access to clinical applications and patients records anywhere and anytime across the Trust, to provide the best care.
The IT department from St George's has therefore looked in the market for the right solution to address these needs. Praim ThinOX thin clients with native support of Imprivata OneSign fulfilled all the requirements needed by the Trust, "with this solution from Praim and Imprivata, we are able to deliver secure, personalised desktops at the point of care, via the user's NHS smartcard." – said John-Jo Campbell, CIO at St George's NHS Healthcare Trust.
Thanks to ThinOX flexibility, the IT team from St George's could configure devices based on clinicians and doctors' needs. The units were locked down offering users only an access to Imprivata authentication client and few restricted local settings (video, audio, mouse etc.). The Praim/Imprivata allows then their authentication via Active Directory credentials, Smart and Proximity Cards.
St George's has deployed a total of 3,000 thin clients, with roughly 2,800 active users connecting throughout a 7-day period (approx half of connection on a daily basis) with an overall 38,000 logons per week.
"We look forward to working with Praim in the future and see them as one of our solution partners in terms of delivering our Medical desktop strategy" – said Justin Beardsmore.
Read the entire case study: www.praim.com