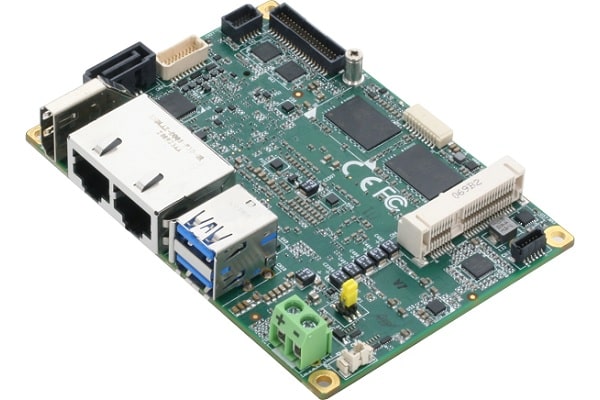 From ZDNet July 2021
A little bigger than the Raspberry Pi, but a lot more powerful (and expensive!)
Most of the time, the Raspberry Pi is enough, but there are times when you need a lot more power.
The Raspberry Pi has created a whole ecosystem of SBCs (Single Board Computers), and while the Pi — especially the new Pi 4 B — is more than enough for most applications, sometimes you want something that's more powerful.
Sometimes a lot more powerful.
The Aaeon PICO-TGU4 offers just that.
Must read: Best Raspberry Pi alternatives in 2021
At 3.94″ x 2.84″ (100mm x 72mm), this board is a bit bigger than a Raspberry Pi 4 (3.37″ x 2.22″/86mm x 56mm), but it does come equipped with an 11th-gen Intel Core — and you can choose between an i3 or i5 to suit your power needs (and budget).
Read more at ZDnet
---
Overview
The PICO-TGU4 compact PICO-ITX board is powered by the 11th Generation Intel® Core™ G processors (formerly Tiger Lake). By leveraging AAEON's expertise and the cutting-edge technologies offered with this latest generation of processors, the PICO-TGU4 delivers performance and flexibility to power the next generation of AI Edge applications.
The 11th Generation Intel Core processors (formerly Tiger Lake) are the third generation of Intel's 10nm microarchitecture, delivering up to 15~20% better performance than the previous generation processors. The PICO-TGU4 offers users the choice of Intel Core G i3/i5/i7 or Intel Celeron® processors to power their projects. These processors support a range of technologies including on-board TPM 2.0 and in-band ECC. The board features 32GB of on-board LPDDR4x memory, and SATA III (6.0 Gbps) storage.
One of the core features of the PICO-TGU4 are its two expansion slots; the M.2 2280 slot (PCIe 4.0) which supports next generation AI accelerators; and the full-sized Mini Card slot which supports extra storage, Wi-Fi, Bluetooth, and more. The PICO-TGU4 also features dual LAN ports, one Intel i225 2.5 Gbps port for ultra-fast LAN connectivity, and on Intel i219 port with support for Intel vPro, enabling remote system monitoring.
The PICO-TGU4 offers a broad I/O layout to connect with a wide range of sensors and easily integrate with projects. The board features a total of eight USB connections, with two USB3.2 Gen 2 type A ports, two USB3.2 Gen 1 headers and four USB2.0 headers. The board also includes two serial port headers, as well as 8-bit GPIO and I2C/SMBUS connectors, allowing connections to an even wider range of devices. Additionally, the PICO-TGU4 includes eDP and HDMI 2.0 delivering brilliant 4K 60Hz resolution.
✦ Shop Online (Orders dispatched in 3 working days)
Features
11th Gen Intel® Core™ i7/i5/i3/Celeron Processor SoC
LPDDR4x on board memory, Max. 32 GB
2.5GbE Intel i225 + 1GbE Intel i219
HDMI2.0b x 1, 4Kx2K + eDP, up to HBR3 8K
M.2 2280 M key(PCIE by4 GEN4/SATA) x 1
SATA 6.0 Gb/s x 1
Full size mPCIe/mSATA x 1
2 x USB 3.2 Gen 2, 2 x USB 3.2 Gen 1, 4 x USB 2.0
RS-232/422/485 x 2
Line-in/Line-out/MIC
DIO 8 bit