Linux Computers and AIOs by ELO
New product by Elo for Linux – I-Series Slate Linux Debian 10.  Complete with a brilliant 15.6-inch Full HD interactive display, Linux Debian 10 OS and Rockchip processor, the I-Series Slate delivers a stunning design,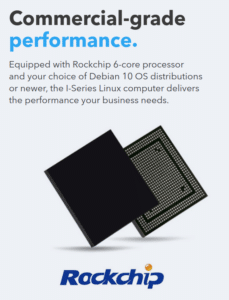 enhanced durability, increased touch accuracy and brilliant display clarity.  Has an option POE adapter as well to eliminate the brick.
With decades of development and customizations made to support global enterprise customers, Elo's Linux-based platform offers Linux device drivers, uniform SDKs, a constantly growing set of tools and an expansive lineup across sizes and form factors.
Other Announcements
Be advised that the PayPoint and PayPoint Pro for Android are being discontinued and will be replaced by the new EloPOS™ for Android product line including the EloPOS Z10, EloPOS Z20 and EloPOS Z30. Explore the values and differences between the models in the info sheet.
Be advised that Intel has discontinued the J4125 CPU included in the EloPOS Celeron models. As a result, the affected models will be discontinued and transitioned to Intel's G4900T Coffee Lake Celeron processor. While we work to minimize product changes, they are needed from time to time. When this occurs, we try to offer a suitable replacement product with equal or better specifications. Please view the PMB 783 for more information.