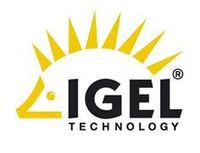 Reading UK. 9 March 2015 – IGEL has updated the firmware of its Linux thin client operating system with the latest software clients for Citrix XenApp / XenDesktop, VMware Horizon and Microsoft R
Source: www.realwire.com
IGEL's customer focus and quality German engineering is the reason businesses continue to choose us," said Simon Richards, IGEL's UK & Ireland Managing Director. "For thin clients to keep pace with the latest developments in the data center, they need up-to-date software clients and protocol standards. The earlier the firmware becomes obsolete, the more often the hardware has to be replaced. These long-term firmware updates are yet another example of our commitment to provide customers with continued access to the best desktop technology available."
The update for the IGEL Linux v4 operating system (Version 4.14.100) features the Citrix Receiver (Versions 12 and 13). Citrix Receiver 13.1.2 offers support for Citrix XenApp / XenDesktop 7.5 including Citrix StoreFront. The update also offers a range of new options such as straightforward and secure user authentication via smartcard and pass-through.
Additional management features
Various other client updates are included such as Version 3.2 of the VMware Horizon Client, IGEL's own RDP Client including RemoteFX 8 for accessing Microsoft RemoteApp and Microsoft Remote Desktop. To make administration even easier, IGEL has also integrated a range of practical extra functions, for example the IGEL Quick Navigator that speeds up configuration procedures by referring directly to necessary and possible set-up settings.
"Customers buying IGEL thin clients back in 2009 would never have imagined the functionality that would become available with features such as Citrix Storefront and RemoteFX 8 and yet with these firmware updates, customers using these older IGEL thin clients can still take advantage of these features," explained Simon.