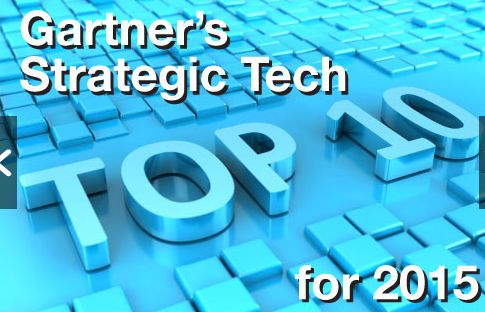 Gartner defines a strategic technology trend as one with the potential for significant impact on the organization in the next three years. Factors that denote significant impact include a high potential for disruption to the business, end users or IT, the need for a major investment, or the risk of being late to adopt.
The top trends for 2015 cover three themes: the merging of the real and virtual worlds, the advent of intelligence everywhere, and the technology impact of the digital business shift.
1. Computing everywhere (phones/wearables)
2. manage, monetize, operate and extend
3. 3D printing
4. Analytics
5. Context-rich systems
6. Smart machines
7. Cloud client self-service computing
8. Software defines — agile & dynamic
9. Web-scale IT (ie be like Amazon)
10. Security (apps become aware)
All in the a lot of the usual suspects + some new catch phrases. Of the 10 you would think #7 would have the most dependable driver — Mobile computing.