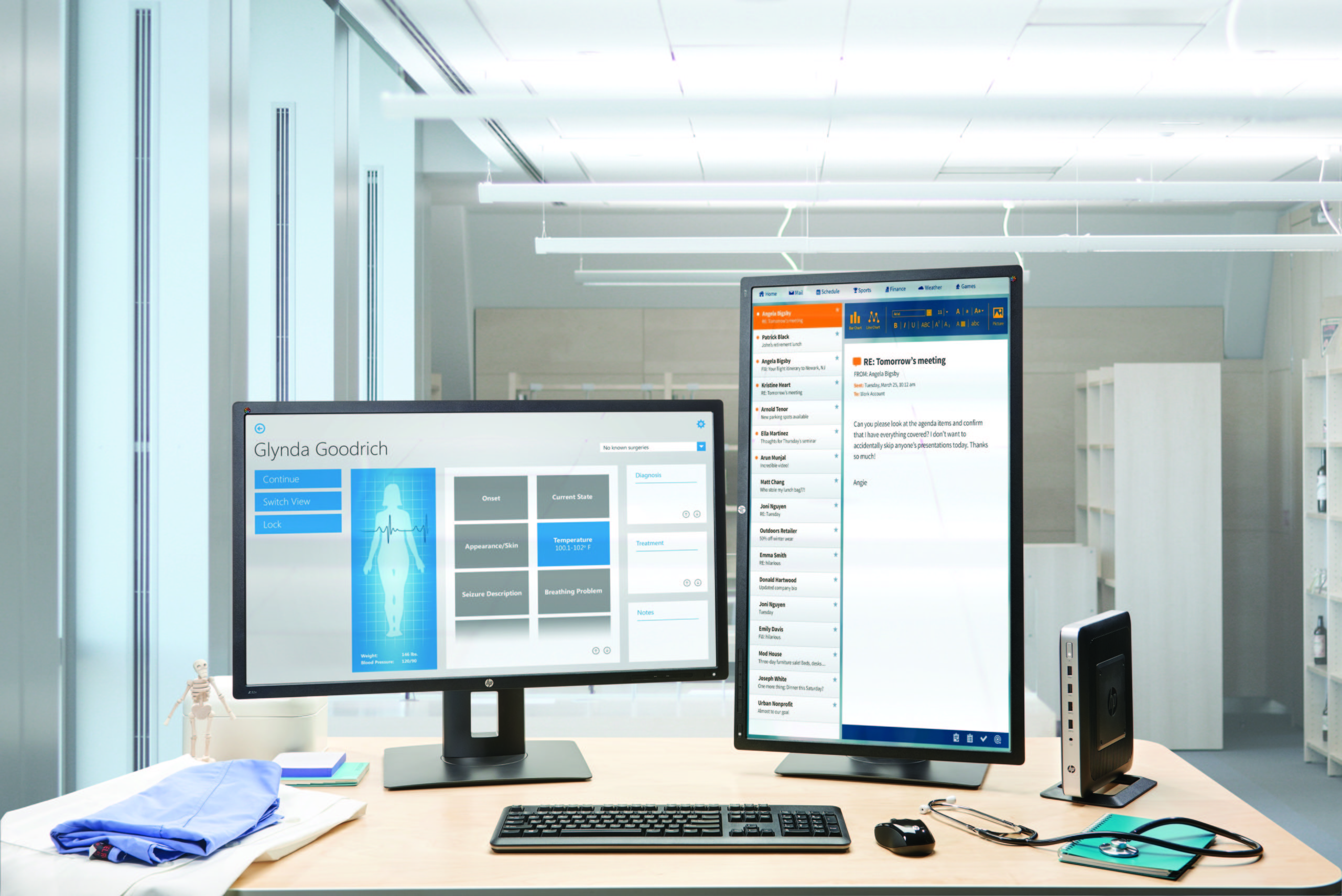 PALO ALTO, Calif., August 26, 2016 — HP Inc. today
delivered a powerful trio of HP thin client solutions to improve the transition of companies' computing workloads to the cloud. The HP t630 Thin Client, ThinPro 6 operating system and the industry's first zero client support for VMware® Blast Extreme(1) together provide powerful and secure virtual solutions for data-intensive businesses whose end-users need to manipulate rich content in the cloud.
As companies increasingly turn towards cloud-based
applications for much of their computing needs, HP has been addressing these needs with powerful, flexible thin and zero-client platforms. With these offerings, HP is increasing the performance of its Thin Client offerings and expanding the range of software it supports.
"Recognizing the potential cost savings and reduced demands on IT, more and more companies are moving their workloads to the cloud," said Jeff Groudan, vice president and global head of product management and engineering, Thin Clients, HP Inc. "A successful cloud deployment, especially among data intensive use cases, requires powerful tools to enable end-users to access and interact with a host of rich content. HP's new cloud-based 'power play offerings' at the hardware, operating system and protocol level address the need for fast, seamless and secure access to cloud hosted resources."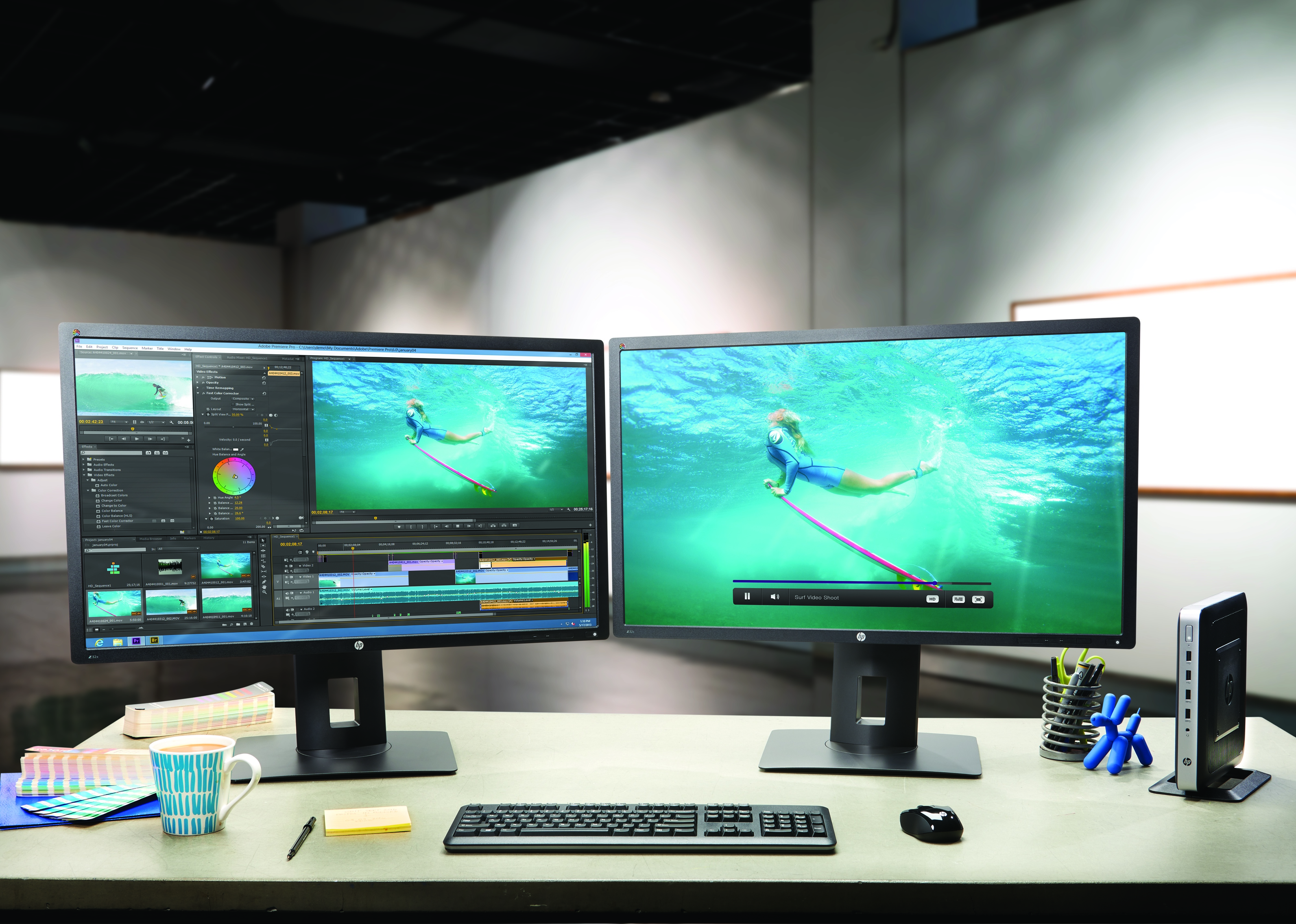 Streamline Cloud-Based Deployments
Powerful and highly configurable, the HP t630 Thin Client streamlines current cloud-based deployments and protects customer investments by providing a path for future virtualization needs. Designed for knowledge-worker desktop PC replacement, the HP t630 boasts a new generation, uniquely optimized embedded x86 quad-core system-on-a chip from AMD, integrated with AMD Radeon™ graphics to support up to two Ultra High Definition (UHD) 4K displays for a rich media experience.
Securing technology investments, the HP t630 provides a range of legacy ports for reliable peripherals, DDR4 system memory and optional local dual flash memory up to 128 GB for separate, discrete storage. Customers also can choose between a wired RJ-45 connection or go wireless with an optional Wi-Fi/Bluetooth® adapter. Other options include a Fiber Optic adapter to connect to secure fiber optic networks or an external Wi-Fi antenna system to optimize performance in small spaces.
Boosts Performance and Productivity
The HP ThinPro 6 is a 64-bit Linux®-based operating system that delivers up to 30 percent performance improvement over 32-bit systems. Built for demanding cloud-based environments for all HP Thin Clients, ThinPro 6 is a powerful, flexible and customizable solution that enhances security and productivity while reducing IT maintenance burdens.
The new operating system features tool-less BIOS update to simplify local or remote upgradeability. A new Certificate Manager eases adding, configuring and managing certificates, which now resides locally in a single, certificate repository within HP ThinPro.
Access Power Cloud Content
Support for VMware Blast, the display protocol based on the H.264 or MPEG-4 Advanced Video Coding (AVC) standard for encoding and decoding, helps improve mobile and desktop thin client performance and end-user experiences. VMware Blast helps improve mobile and desktop thin client performance and end-user experiences when manipulating H.264 content in spite of any network lag. It also enhances and works seamlessly with HP True Graphics software allowing users to better harness rich multimedia content.
"We're excited with HP's commitment to the Blast protocol for their desktop Smart Zero Clients as we continue to drive virtual desktop and cloud computing innovation," said Pat Lee, vice president, Product Management for Cloud Apps and Desktops, VMware. "Through support for unified communications and software solutions such as HP True Graphics, HP Device Manager and HP Velocity, HP and VMware are bringing useful differentiation to market."
.3 inch diPricing and Availability
The HP t630 Thin Client, ThinPro 6 and VMware Blast are planned to be available starting in September. The HP t630 will have an estimated U.S. starting price of $469.
About HP Inc.
HP Inc. creates technology that makes life better for everyone, everywhere. Through our portfolio of printers, PCs, mobile devices, solutions, and services, we engineer experiences that amaze. More information about HP Inc. is available at http://www.hp.com.