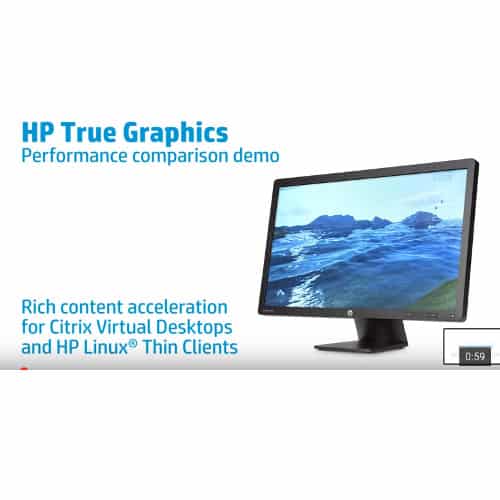 Palo Alto, Calif., Feb. 11, 2016 – HP Inc. today announced the world's broadest  portfolio of shipping Windows 10® IoT Enterprise Thin Clients fordesktop, mobile and tablets(1) — the portfolio includes the HP t520, t620, t620 PLUS, t730, mt42, and both ElitePad 1000 G2 thin client tablets
Designed for a broad range of cloud computing solutions across a variety of industries, including enterprise, manufacturing, healthcare and government, HP Thin Clients running Windows 10 IoT Enterprise deliver superb performance, extensive peripheral support, advanced security and easy management.
"Forward-thinking customers have allowed HP to maintain its #1 worldwide market leadership position for Windows Embedded Thin Client shipments for the last seven years," said Jeff Groudan, worldwide director, Product Management, Thin Clients, HP Inc. "The availability of our broad Windows 10® IoT Enterprise Thin Client portfolio provides customers with a secure and reliable endpoint that delivers outstanding user experiences for all of their virtual desktop infrastructure, desktop-as-a-service, and cloud computing needs."
HP Thin Clients running Windows® 10 IoT Enterprise offer advanced security features including Trusted Platform Module (TPM), BitLocker Drive Encryption, Secure Boot, and HP USB Port Manager. Additionally, the newest Microsoft platform has a 64-bit operating system for improved performance and support for larger memory installations.
"We are seeing a lot of demand for Win 10 IoT Enterprise thin clients and are excited about HP's commitment to Win 10 and adoption of Win 10 across a broad portfolio of desktop and mobile devices," said David Wurster, Director of Product Marketing, Windows IoT, Microsoft Corporation.
HP Thin Clients with Windows 10 IoT Enterprise offer a number of unique solutions that provide a rich and robust user experience, optimize overall media delivery and simplify overall management including HP Device Manager, HP True Graphics, HP Velocity, HP Easy Shell, HP Remote Graphics, and Unified Communications..

Availability
Windows 10® IoT Enterprise Thin Clients including the HP t520, t620, t620 PLUS, t730, mt42, and both ElitePad 1000 G2 Thin Client tablets are available worldwide starting February 1, 2016. For more information and pricing visit www.hp.com/go/thin.
About HP Inc.
HP Inc. creates technology that makes life better for everyone, everywhere. Through our portfolio of printers, PCs, mobile devices, solutions, and services, we engineer experiences that amaze. More information about HP Inc. is available at http://www.hp.com.
Mobile and desktop thin client comparison as of January 1, 2016 based on HP's internal analysis. Competitive information taken from vendors' publically available websites on January 1, 2016.
Forward-Looking Statements
This document contains forward-looking statements within the meaning of the safe harbor provisions of the Private Securities Litigation Reform Act of 1995. Such statements involve risks, uncertainties and assumptions. If such risks or uncertainties materialize or such assumptions prove incorrect, the results of HP Inc. and its consolidated subsidiaries could differ materially from those expressed or implied by such forward-looking statements. All statements other than statements of historical fact are statements that could be deemed forward-looking statements, including any statements of expectation or belief and any statements of assumptions underlying any of the foregoing. Risks, uncertainties and assumptions include the possibility the company's business may not perform as expected; that the company may be unable to successfully implement separation strategies; and other risks that are described in the company's reports to the U.S. Securities and Exchange Commission, including but not limited to the risks described in the company's Annual Report on Form 10-K for its fiscal year ended October 31, 2014 and the company's Quarterly Reports on Form 10-Q for its fiscal quarters ended April 30, 2015 and July 31, 2015. The company assumes no obligation to update these forward-looking statements.
© Copyright 2016 HP Development Company, L.P. The information contained herein is subject to change without notice. The only warranties for HP Inc. products and services are set forth in the express warranty statements accompanying such products and services. Nothing herein should be construed as constituting an additional warranty. HP Inc. shall not be liable for technical or editorial errors or omissions contained herein.