Thin Client Computing Next Generation ZCentral
New accelerated speeds with reduced latency and high security for remote workplace.  Empowering remote locations is very important in todays environment of increased competition for specialized talent. And reduced IT budgets.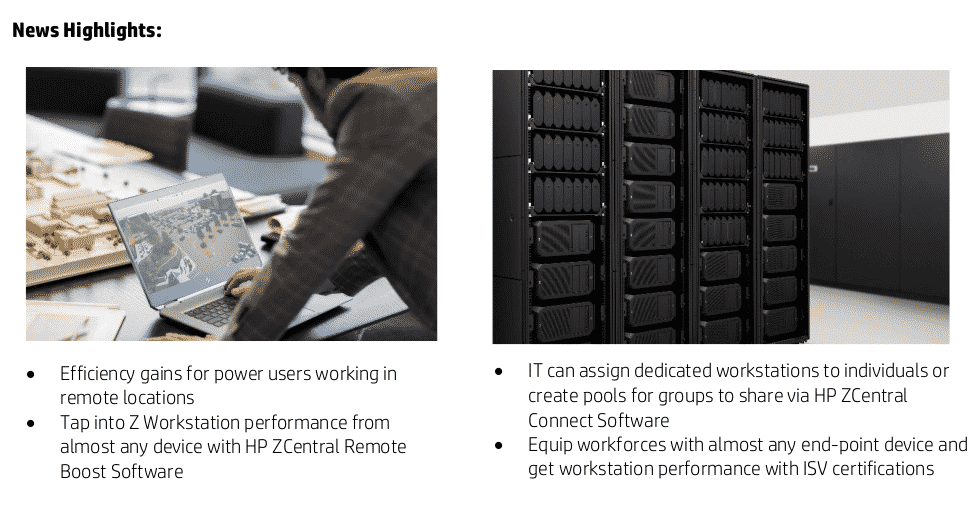 LAS VEGAS, Nov. 18, 2019 — Today at Autodesk University, HP Inc. announced HP ZCentral, a solution powering the next-gen of computing with the world's first single sourced remote workstation solution. ZCentral centralizes high-end computer power in a single location, liberating power-users who work on graphics-intensive applications, and enabling remote, mobile and fluid workstyles. ZCentral combines Z by HP racked high performance workstations, a new generation ZCentral Remote Boost software – formerly known as Remote Graphics Software (RGS) – and new proprietary ZCentral Connect software to accelerate high compute workflows to the next level.
"As the office of the future continues to evolve, HP is equipping today's mobile workforce with the world's only single-source remote workstation solution, accelerating high-performance, complex workflows from any location," said Jim Nottingham, general manager and global head of workstations, HP Inc. "HP ZCentral is reinventing the way businesses meet the demands of today's global workforce with flexibility by accelerating IT deployment and management, reducing costs, and providing world-class data security."
ZCentral equips IT departments with predictable and dedicated remote performance, independent of the end point device, and a simple way to manage those connections with ultimate data security. The financial impacts of a data breach can be significant to a company with the average cost of $3.6 million in 2018. ZCentral can reduce the challenges and costs associated with managing various platforms and devices while offering secure remote access to users. ZCentral offers 16%-33% higher performance, at 59%-72% of the cost of today's virtualized workstations 2 . With ZCentral, IT managers can manage, monitor, and assign dedicated remote workstation performance on a secure private network with one console.
HP will deliver the full end-to-end ZCentral solutions to partners across various industries, including AEC, Data Science, Media and Entertainment, and Oil and Gas, among others. The updated ZCentral Remote Boost and new ZCentral Connect software will be available in early 2020, with beta versions available for current customers.
Fluid IT Transforms Workflows for Power Users
In today's remote office environments, creators, animators, researchers and product developers, among other professionals, are working in various locations more frequently to increase collaboration, creativity, productivity and efficiency. However, power users accessing large files for these complex workflows, while syncing over the network, is costly and time-intensive. HP is innovating in two key areas to deliver enterprise-ready remote computing solutions in the right way: predictable and dedicated remote workstation performance independent of the OS (MacOS, Windows, Linux) and the shift to ultra-flexible IT.
ZCentral delivers dedicated performance via a secure and stable remote workstation connection, with the new ZCentral Remote Boost software delivering high-performance on VFX, simulation and 3D, bringing a new way to manage those connections collectively. ZCentral Remote Boost works with Windows, Linux or MacOS devices, providing flexibility for the end-user to create or design on almost any end-point device, anywhere.
The ZCentral Connect software enables company IT departments to easily assign workstations, monitor connections and logins all through one simple interface. ZCentral Connect also makes is simple and easy for power users to connect to dedicated, centralized compute or access the next available workstation within an assigned pool of centralized workstations. By keeping the workstation secure and centralized next to the data storage, with the ZCentral Connect and ZCentral Remote Boost connection, only encrypted pixels are sent over the network, so company data remains highly secure at the source.
With the world's most secure workstations, packed with professional graphics highly tuned to deliver ultimate performance with complex, multi-application workflows, ZCentral is innovating how compute power is managed. ZCentral delivers:
• Efficiency gains with fast load times for large projects in remote locations (co-located data and compute for security and faster load times), protecting company data on the world's most secure workstations – racked Z by HP workstations.
• IT departments can share a pool of workstations to each user in a new flexible way by managing connections remotely on one simple interface with ZCentral Connect Software Power users can tap into Z Workstation performance and work as if they are local even with a thin and light device via ZCentral Remote Boost Software
IT departments can equip workforces with a variety of end-point devices from Thin Clients to Notebooks and Convertibles and regardless of the device, power users can upgrade to dedicated workstation performance for the ISV applications they use, when they need them.
ZCentral Availability
• Z by HP Desktop workstations with rack mounting are available today.
• HP ZCentral Remote Boost software will be available in early 2020, pricing to be announced at a later date and the beta for current customers is available now. For more information or to contact HP, please visit hp.com/ZCentral.
• HP ZCentral Connect software will be available in early 2020, pricing to be announced at a later date and the beta for current customers is available now. For more information or to contact HP, please visit hp.com/ZCentral.
• HP RGS is available today, visit hp.com/ZCentralRemoteBoost for more information.
HP ZCentral Announcement_11.16.19
Bonus Coverage HP Rack Whitepaper
Whether it is an IT technician servicing a single rack, or a team of professionals managing multiple data centers–with HP Rack Mounting Solutions, everyday tasks are made easy. HP Rack Mounting kits are engineered with the same customer-centric design philosophies that have made the Z Workstation product line a continuing success. To maximize rack density, HP engineers have designed a low-profile fixed-rail solution that can be customized on-the-spot to fit the HP Z2 Mini G4, HP Z2 Tower G4, HP Z4 G4 or HP Z6 G4 Workstations. The system-tray features captive fasteners, allowing for quick and easy tool-free access to the Workstation. For the HP Z8 G4 Workstation, HP continues to offer an enterprise-class rail solution that fully extends–allowing for in-rack configuration of the Workstation. Gaining access to the interior components of a rack-mounted HP Z8 G4 Workstation is a tool-free operation.