New software released from Vispero and Paciello Group. Enables ADA and Accessibility on Windows-based workstation and are a great tool for corporate networks looking to provide accessibility options for their employees.
JAWS Kiosk by Vispero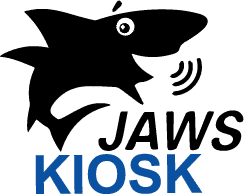 Vispero®, the world's leading assistive technology provider for the visually impaired, is excited to announce an addition to the Vispero family: JAWS Kiosk. A collaboration between The Paciello Group (TPG) and the Freedom Scientific brand (owned by Vispero), JAWS Kiosk is focused on delivering accessible kiosk solutions whether it's through the incorporation of Freedom Scientific's industry-leading screen reading software, JAWS®, or by utilizing TPG's accessible design and technical implementation services. Beginning with the June 2019 release of JAWS, JAWS software will revolutionize self-service kiosk accessibility.