10ZiG Thin Client & Zero Client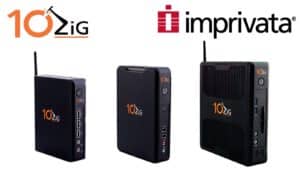 LEICESTER, UK – 10ZiG Technology® are pleased to have signed a distribution agreement with Prianto to extend distribution of their line of Thin & Zero Clients in the UK Channel. 10ZiG has a strong and existing distribution model with Northamber Plc and with the addition of Prianto aims at further widening the reach of 10ZiG product lines into new technology sectors.
"We are excited by the signing of Prianto. Their focus is on 'Cloud Desktop Transformation' via strong association to Amazon WorkSpaces and Droplet Computing, in addition to their historical links with Citrix and VMware. Prianto will open out new opportunities for 10ZiG," said James Broughton, 10ZiG Technology Sales Director.
"Prianto has a wealth of expertise and established technology/vendor relationships in the UK market," said Kevin Greenway, 10ZiG Technology CTO. "We look forward to extending our UK distribution model and further broadening our offering into modernised workspace offerings, to include Amazon WorkSpaces and Droplet Computing amongst others."
Yuri Pasea, CEO of Prianto added, "We are continually looking for the right vendors to strengthen our 'desktop transformation' strategy. Until now, the missing piece of the puzzle was a Thin Client device. 10ZiG is exactly what we are looking for and their advanced management software and flexible range of devices was an important factor in choosing them."
About 10ZiG Technology®
10ZiG Technology is a world-market leader in Thin & Zero Client endpoint devices for Virtual Desktop Infrastructure. 10ZiG provides leading Intel and AMD based Dual and Quad Core Thin Clients and Zero Clients for VMware PCoIP & Blast Extreme, Citrix HDX, and Microsoft environments, in addition to the widest range of Teradici PCoIP Zero Clients on the market. 10ZiG offers free, no-obligation demo devices, Technical Support teams based in the UK and U.S. and provides "The 10ZiG Manager" console with cloud capabilities completely free with unlimited user licenses supported. Get a free evaluation device today at 10ZiG.com.
###
Contact Us
To learn more about cutting edge VDI technology from 10ZiG, or to arrange for a FREE Thin or Zero Client demonstration device, please contact 10ZiG below.
Corporate Headquarters, US
10ZiG Technology Inc.
23309 N. 17th Drive #100
Phoenix, AZ 85027, USA
(866) 865-5250 | Email:[email protected]| Web: www.10ZiG.com
EMEA Headquarters
10ZiG Technology Ltd.
Unit S2, Troon Way Business Centre
Humberstone Lane
Leicester LE4 9HA, UK
+44 (0) 116 2148650 | Email:[email protected]| Web: www.10ZiG.com
Contact: Tom Dodds
10ZiG Technology Inc.
+44 (0) 116 2148650
—————