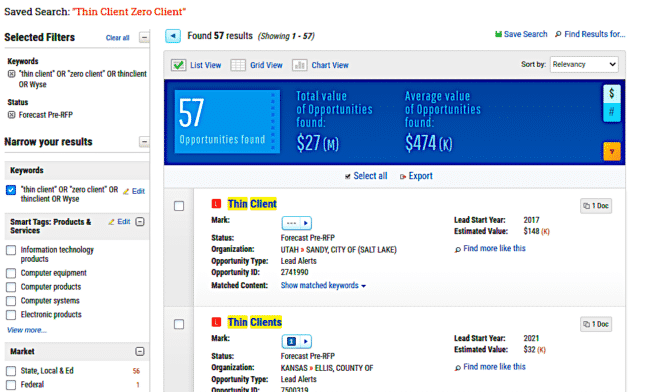 July Thin Client RFPs and Contracts we've seen and looked at:
Here is overall status today for pre RFP. 57 opps for 27M
From one service –

Here is is another. This is Forecast Pre-RFP. There are 57 opps worth 27M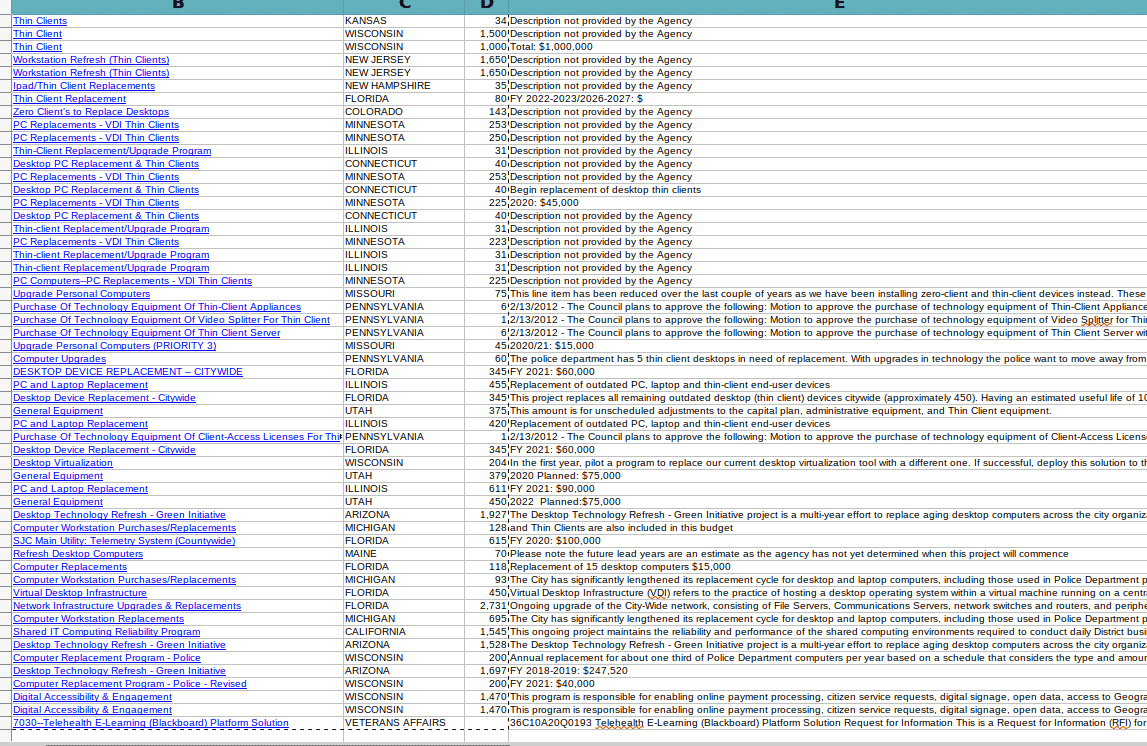 Here is a look at Active Contracts:
458 found
total spending 1B
Average spending 7M
If we filter than down to those contracts expiring in the next 12 months:
87 contracts
104M
Average 13M
MTA in NY is big one for Wyse
---
Since 1999, Thinclient.org has been reporting the thin client computing market as well as the ChromeBook, Zero Client, Android clients, Pi Raspberry Clients and Thick Client market. Generally the cloud computing market since it started with companies such as Citrix back in the late 80s.
A thin client is a lightweight[vague] computer that has been optimized for establishing a remote connection with a server-based computing environment. The server does most of the work, which can include launching software programs, performing calculations, and storing data. This contrasts with a fat client or a conventional personal computer; the former is also intended for working in a client–server model but has significant local processing power, while the latter aims to perform its function mostly locally.
Thin client hardware generally supports a keyboard, mouse, monitor, jacks for sound peripherals, and open ports for USB devices (e.g., printer, flash drive, webcam). Some thin clients include legacy serial or parallel ports to support older devices such as receipt printers, scales or time clocks. Thin client software typically consists of a graphical user interface (GUI), cloud access agents (e.g., RDP, ICA, PCoIP), a local web browser, terminal emulators (in some cases), and a basic set of local utilities.
New hardware interfaces includes socket-based enabled devices eliminating the need for a physical USB connection. Bluetooth wireless connectivity is also a big factor for devices.