HP Inc. today announced the HP t310, the newest addition to the HP Zero Client family of products, delivering high performance and world-class security. The HP t310 Quad-Display Zero Client can support up to four displays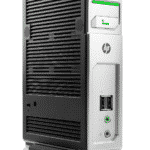 simultaneously, allowing ease-of-use for customers to multitask across monitors without adding additional components. The new HP Zero Client offerings are designed to meet the needs of hospitals, engineering firms, government offices and financial institutions at risk of data breaches by providing computing solutions that have no sensitive data on the devices.
The HP t310 Quad-Display Zero Client offers:
DisplayPort-enabled multi-display setup to run multiple graphics, modeling, and simulation feeds on two 2560 x 1600 displays or four 1920 x 1200 displays.
Worry-free security with a Teradici Zero Client that has no

OS and transmits pixels instead of data.

Powerful performance for high-resolution, full-frame rate 3D graphics and HD streaming media across all your displays from the accelerated performance of PCoIP hardware.
HP t310 Zero Client Press Release