PCoIP Zero Clients Teradici AWS
Company Showcases PCoIP Zero Clients Running Amazon WorkSpaces at re:Invent 2014 
BURNABY, British Columbia – November 10, 2014 – Teradici®, the technology leader for creating virtual workspaces, today announced general availability of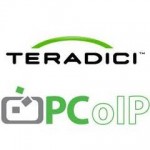 PCoIP® Zero Clients forAmazon WorkSpaces. Almost 50 zero clients from 27 of the world's leading manufacturers are now available in a variety of form factors, offering additional device flexibility to Amazon Web Services (AWS) enterprise customers.
"Workspace-as-a-Service addresses the key IT pain points of application availability, device management and data security, while enabling enterprises to be more agile with their BYOD and enterprise mobility strategies," said Scott Ottaway, vice president, 451 Research.  "451 Research has seen this market grow to over $2 billion driven by broad adoption across all customer segments and verticals, supported by a full spectrum of enterprise devices – such as PCoIP Zero Clients, which address strict security, manageability and compliance requirements."
Amazon WorkSpaces is a managed cloud-based desktop computing service that leverages the PCoIP protocol to compress, encrypt and encode the users' desktop computing experience and then transmit it 'pixels only' to the endpoint device. PCoIP technology is a key ingredient of industry-leading cloud computing solutions, as it easily scales to meet customer requirements, providing best-in-class security and a superior user experience over a range of networks.
"Zero client devices provide Amazon WorkSpaces customers with a secure, easy-to-manage, affordable solution for their users to access Amazon WorkSpaces," said Gene Farrell, general manager, Amazon WorkSpaces, Amazon Web Services. "We are excited that our customers can choose from a wide variety of zero client devices from Teradici's broad ecosystem of PCoIP Zero Client providers."
"We're delighted to join AWS and our partners to extend the benefits of PCoIP Zero Clients to Amazon WorkSpaces enterprise customers," added Dan Cordingley, president and CEO, Teradici. "We've completed PCoIP Zero Client beta programs with companies of all sizes, representing a wide variety of use cases running Amazon WorkSpaces. Feedback has been resoundingly positive, particularly with regard to cloud desktop performance, characterized as virtually 'indistinguishable' from a traditional desktop. At AWS re:Invent, we're eager to demonstrate the phenomenal results we've achieved with Amazon WorkSpaces to date and enthusiastic about what the future holds."
Attendees can see Amazon WorkSpaces running on PCoIP Zero Clients at AWS re:Invent this week in Teradici booth #432 or at AWS Test Drives.
With Amazon WorkSpaces support for PCoIP Zero Clients, customers can access cloud-based desktops from secure, high performance and easy to manage enterprise end points. PCoIP ZeroClients are typically deployed at a user's office or cubicle, and complement software clients for Amazon WorkSpaces, meeting the demand for another connectivity option to the existing Windows, Mac, iOS and Android clients and in keeping with today's corporate BYOD strategies.
To learn more about PCoIP Zero Clients, go to: https://www.teradici.com/zeroclients. To research, select, and purchase zero client models from leading manufacturers, go to the Teradici Product Finder.
Supporting Quotes from Teradici PCoIP Zero Client OEM Partners
"We are pleased to support Teradici and Amazon WorkSpaces with Dell's industry leading Wyse 5000 and 7000 PCoIP zero clients. With our leadership in cloud client manageability, security, performance and value, Dell enables organizations of all sizes to leverage the benefits of virtualization, and we're excited about extending those benefits to more customers with our PCoIP zero clients."         
           Steve Lalla, Vice President and General Manager, Dell Cloud Client Computing                    
"Customers are looking for new end-user computing solutions that are simple, secure and easy to manage. HP's secure, high-performance t310 zero clients deliver a seamless, high-fidelity desktop experience and are tailor-made for virtual desktop and Amazon WorkSpaces DaaS environments."
Jeff Groudan, Director, Worldwide Thin Client Product Management, HP
"Built for the cloud, LG Zero Clients are the perfect end point for Amazon WorkSpaces desktop-as-a-service.  Affordable and energy efficient, our V series PCoIP Zero Client desktops and all-in-one monitors offer a no-hassle, ultra-secure multi-computing solution that's easy to install and support for any business. Building on a track record of success in virtual computing, LG is excited to help fulfill the promise of the cloud by providing a rich user experience to office workers and power users alike."
Hyoung-sei Park, Head of the IT Business Division, LG Electronics
"In an increasingly mobile world, Samsung is committed to helping enterprises adapt and enhance collaboration and workforce productivity. Services like Amazon WorkSpaces support this by simplifying the management of enterprise personal computing. Samsung's zero client product portfolio is built for performance, adaptability and efficiency, offering the broadest spectrum of PCoIP endpoints to securely access the cloud and critical industry-specific applications through Amazon WorkSpaces."
Tod Pike, Senior Vice President, Enterprise Business Division, Samsung Electronics America
###
Related Links:
Social Media:
@Teradici
#PCoIP, #ZeroClients, #DaaS, #WorkSpaces, #YearofDaaS
 About Teradici
Teradici is the technology leader for creating virtual workspaces. The company's PCoIP technology powers the spectrum of local, remote, mobile and collaborative work styles, fundamentally simplifying how computing is provisioned, managed, and used throughout virtual and cloud environments. The world's largest cloud computing companies rely on PCoIP technology to fulfill the promise of the cloud – an outstanding user experience, securely delivered to any device, anywhere. Teradici customers include Fortune 500 enterprises and institutions around the world, local and federal government agencies, and cloud and service providers.  Teradici was founded in 2004, and is headquartered in British Columbia.  For more information, visit www.teradici.com.
###
Teradici and PCoIP are trademarks of Teradici Corporation and are registered in the United States and/or other countries. Any other trademarks or registered trademarks mentioned in this release are the intellectual property of their respective owners.
Editorial Contacts:
Teradici                                                                                                                               Blanc & Otus
Lisa Washington, +1-408-961-8328                                                     Bill Rundle, +1-415-856-5104