Reading, UK. November 19th, 2014: IGEL Technology is extending its support for the Crisis at Christmas initiative to help London's homeless over the festive period. This year 300 IGEL thin clients will be deployed at 10 schools and colleges used as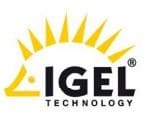 Crisis Christmas Centres over the holiday. During the operation 8,000 Crisis charity volunteers across the country will make the greatest possible difference for more than 3,000 homeless guests. This will be IGEL's fifth year of consecutive support for the initiative.
For the first time this year, IGEL thin clients will be used at each London location as Video Call Kiosks to allow homeless guests to get in touch with friends and family and to consult with Crisis specialists at other locations to help improve their situation. The remaining IGEL devices are used to provide access to email, word processing and collaboration tools to enable Crisis charity volunteers to communicate and identify shelter for homeless people over the Christmas period, as well as for homeless visitors to access the internet for information and communication.
The thin clients are part of a total IT solution being provided to Crisis at Christmas by the Aimar Foundation, a charity founded to provide IT support to other charities. The Aimar Foundation is funding and setting up the information systems network, with help from global IT companies, hosted desktop provider Vesk and the support of volunteers, principally from Morgan Stanley. In total 200 technology professionals and volunteers will set-up the vital communications network in a 48 hour period.
"We are providing thin clients and IT expertise, through the Aimar Foundation, to enable Crisis to provide vital support and contact for those who are homeless at this very difficult time of the year for them," said Simon Richards, IGEL's UK Managing Director.
"The IGEL thin clients are ideal for Crisis at Christmas because they are simple and fast to set-up using centralised management software, secure because all data is held on central servers and reliable."
For further information about Crisis at Christmas visit: http://www.crisis.org.uk/pages/christmas.html
For further information about the Aimar Foundation visit: www.theaimarfoundation.org
About IGEL Technology
A world leader in thin and zero client solutions, IGEL Technology helps organizations improve the agility, efficiency, and security of their virtual desktop and application delivery systems. IGEL produces one of the industry's widest range of hardware thin and zero clients, based on Linux and Microsoft Windows, and leads the market in software based thin clients allowing customers to access a broad spectrum of server-based infrastructures and applications. IGEL also offers powerful and intuitive management software for easy deployment and administration of thin clients throughout any size organization. Partnerships with industry leaders like Citrix, VMware, Red Hat, and Microsoft ensure that IGEL provides the most up-to-date technology and trustworthy security to clients in industries that include Healthcare, Education & Research, Public Sector, Financial, Insurance, Retail, Logistics, and Manufacturing. IGEL has offices in the United Kingdom, Australia, France, the Netherlands, Austria, Belgium, Switzerland, Sweden, the United States, Germany, Hong Kong, Shanghai, Beijing and Singapore and is represented by partners in over 50 countries worldwide. To learn more, visit www.igel.co.uk or follow us on Twitter:twitter.com/IGEL_Technology
Editorial Contacts:
IGEL Technology GmbH
Dr. Frank Lampe
Hanna-Kunath-Str. 31
28199 Bremen
Tel.: 0421 / 52094 1300
Fax: 0421 / 52094 1399
E-Mail: [email protected]
Web: www.igel.com
Amber Group
Paul Smith
Tel: +44 (0)7770 828525
Email: [email protected]