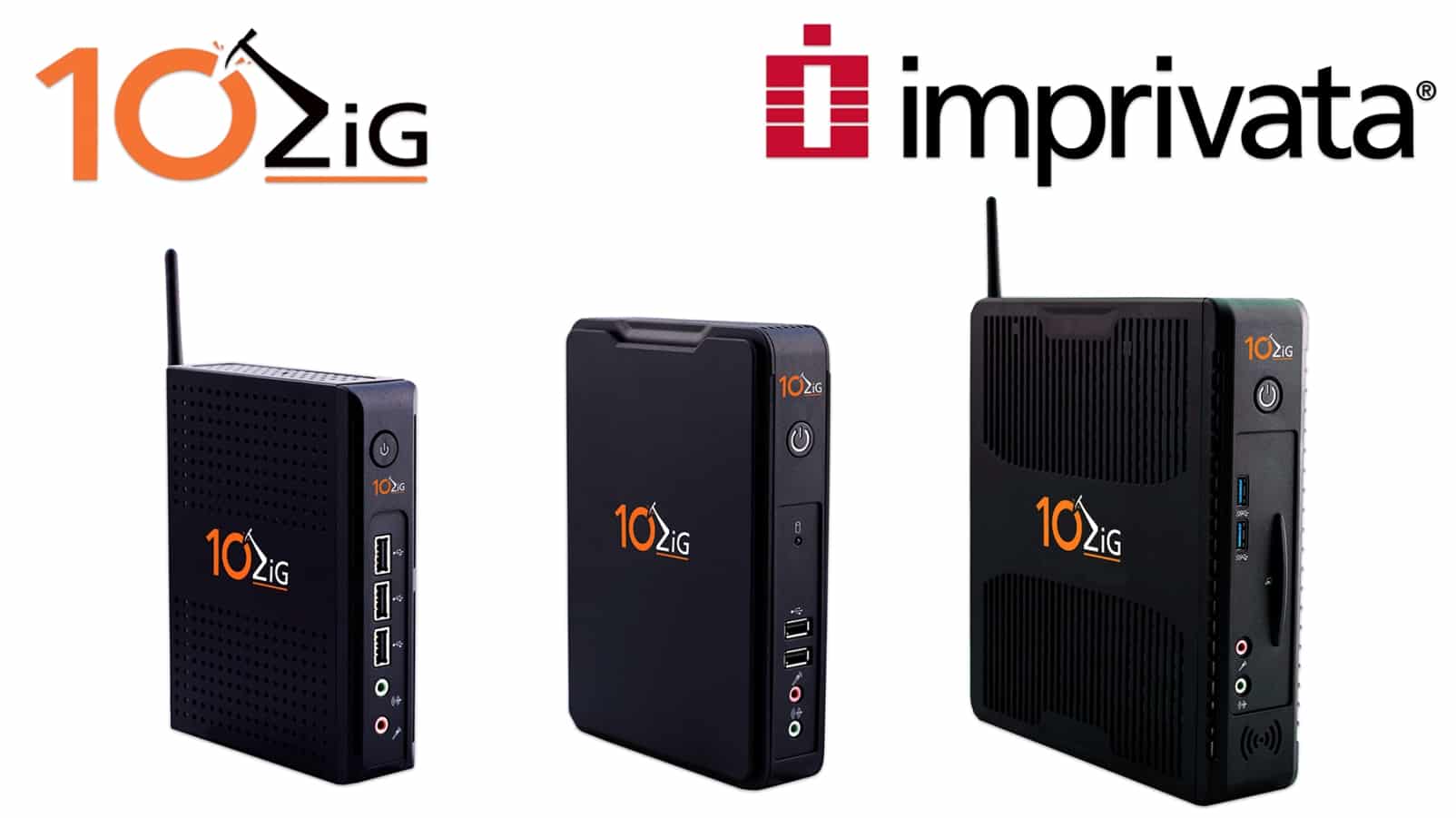 10ZiG Achieves Imprivata OneSign Certification on Linux Based Thin and Zero Clients for Healthcare
10ZiG Technology® achieves full certification of Imprivata® OneSign® Single-Sign-On (SSO) following integration into their PeakOS Linux Thin Clients and NOS Software Zero Clients.
Leicester, UK – 10ZiG is now offering fully certified Imprivata OneSign® on their PeakOS™ Linux Thin Clients and NOS™ Software Zero Clients, simplifying access to virtual desktops in healthcare environments.
Imprivata certification allows 10ZiG customers lightning fast and highly secure access to clinical and administrative applications; streamlining workflow by negating the need to repeatedly sign-in across multiple 10ZiG endpoints.
"We are excited that 10ZiG completed the integration effort to achieve Imprivata OneSign® Certification; their thin and zero clients are now well positioned for the healthcare market, where Imprivata enables fast secure access" says Carina Edwards, Senior VP, Customer Experience, Imprivata.
Support for Imprivata OneSign proximity card readers allows care providers access to their virtual desktops on any 10ZiG Thin or Zero Client with no-click access and without the need for remembering multiple passwords. This means faster and easier access to patient records.
"Seamlessly integrating Imprivata on our PeakOS Linux and NOS Software Zero Client devices will complement our existing range of Windows and Teradici based clients supporting Imprivata within VDI environments. This integration is particularly important for our NOS Zero Clients as they provide a flexible, reliable and manageable solution for IT Managers in healthcare whereby they have no local OS to contend with, only the virtual desktop," says Kevin Greenway, Managing Director at 10ZiG Technology.
Greenway continued, "Supporting Blast Extreme, PCoIP, HDX and HDX 3D Pro, our devices are the perfect solution for Imprivata users in VMware Horizon, Citrix Xenapp and Citrix XenDesktop environments. This partnership means 10ZiG now offers a seamless solution for healthcare providers to provision high-performance, secure desktops that are easily accessible and most importantly allow the care providers to spend more time doing what they do best, caring for their patients."
About 10ZiG Technology
To learn more about cutting edge VDI technology from 10ZiG, or to arrange for a FREE Thin or Zero Client evaluation unit, please contact the relevant office below:
(Corporate Headquarters, US)
10ZiG Technology Inc.
23309 N. 17th Drive #100
Phoenix, AZ 85027
(866) 865-5250 | Email: [email protected] | Web: www.10ZiG.com
(EU Headquarters, UK)
10ZiG Technology Ltd.
Unit S2, Troon Way Business Centre
Humberstone Lane
Leicester LE4 9HA, United Kingdom
+44 (0) 116 214 8660 | Email: [email protected] | Web: www.10ZiG.com
Focusing solely in developing Thin and Zero Clients for the latest desktop solutions, 10ZiG has long-standing partnerships with industry leaders such as Citrix, VMware and Microsoft. These partnerships are all with the aim of providing the best performance possible by supporting the full feature sets of acceleration protocols such as HDX, HDX 3D Pro, PCoIP and RDP 8.1. 10ZiG offers traditional dual screen Thin and Zero Clients, including the widest range of TERA2-based PCoIP devices on the market, including Dual Screen, Quad Screen and All-In-One hardware. 10ZiG devices come with a variety of OS options, including Linux, NOS (Zero), Windows 7, Windows 8 and Windows 10 IoT (W10 IoT).
10ZiG is committed to taking the complexity out of Desktop Virtualization, Application Delivery and The Cloud by providing Thin and Zero Clients with components that simplify implementation, improve management, device visibility and enhance the user experience. All 10ZiG devices are accompanied by the 100% free enterprise class 10ZiG Manager Utility (now with cloud connect to manage devices over the internet), enabling centralized configuration, maintenance and control of all 10ZiG Software Zero, Linux and Windows devices. The 10ZiG product range is underpinned by the most personal Sales and Support service on the market, complemented by a no-obligation, no-hassle, flexible 30-day evaluation offer.
CONTACT: Tom Dodds
Sales & Marketing Executive
10ZiG Technology
+44 (0) 116 214 8658
—————